The Manga
After the completion of the Personal Project, I put RE down for a while and moved onto other projects. I wrote two more manga. One was called "Rebels," featuring only three of the cast members from RE (Eripmav, Andrew and Myoku). The next story was called "...Whispered the River," featuring the same three recurring characters and many more debut roles.
Completing "...Whispered the River" marked the last manga I've since done.
Because of the revisions of the Personal Project, just in the time in 10th grade that I spent on RE there were two "drafts" of the manga.
After "...Whispered the River," I began to look at the manga projects I'd completed in search of one to remake. This resulted in RE taken on in manga format in a totally new way.
I cut down each page to a half a sheet of paper, which is the traditional "manga" size, and I started inking the pages. I've spent the last two years poking around at it, so the art developed a lot and this draft of RE as a manga was more of an experiment.
To give you an idea of the kind of growth RE experienced just as a manga, below I've laid out a sample from each of the three drafts. All of them depict the same instance in the story.
Draft I
This is an image from the first of the two versions of the story written in 10th grade.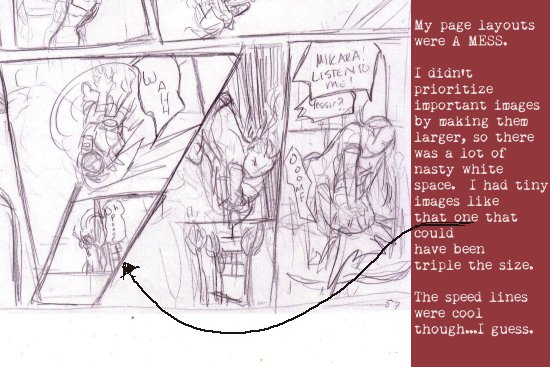 Draft II
This is the revised version of the image above done for the Personal Project.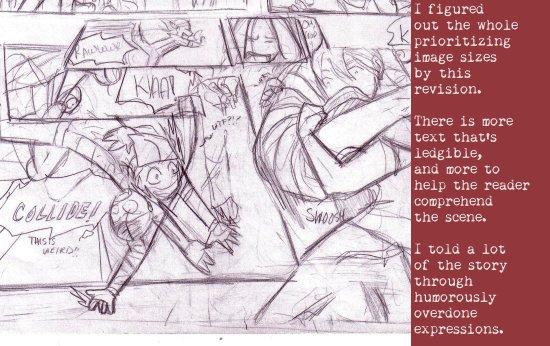 Draft III
This is one of the half-sheet pages done in the new format using pen and ink.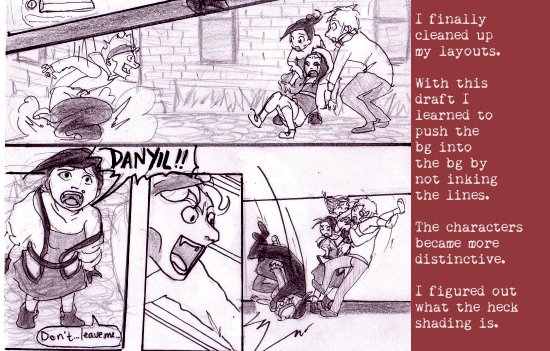 After that, I moved onto writing novels without pictures because I recognized that if I ever wanted a story of mine to reach an audience, I'd better present it in a way that could. Manga seemed less and less practical, more and more time consuming for an increasingly busy student, and less and less rewarding.